electrochromic car window film
DESCRIPTION
21st century air travel, train travel and car travel includes the ability to dynamically adjust your windows and sunroofs at the touch of a button, with over 99% UV protection.
Upgrade and modernize your transportation environment and services by providing the ability to adjust light and privacy, which creates comfort for both passengers and operators.
Designed to retrofit to existing glass surfaces, electrochromic car window film by Noyark provides a simple and cost effective alternative to other switchable smart film technologies.
It is manufactured with 1 PDLC layer, 2 ITO films, 2 PET films and a self-adhesive cling layer on one side (peel and stick) which makes it easy to apply to car window glass surfaces (no specialist installation equipment required).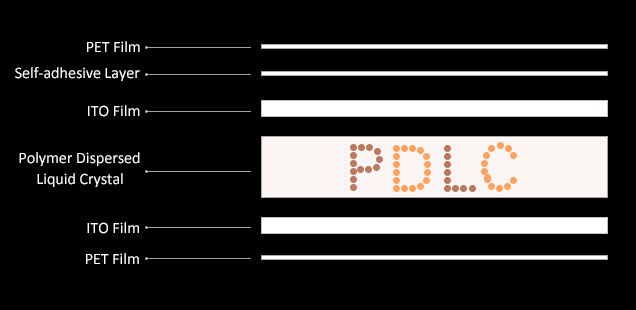 A simple ON – OFF mode switches the film from being clear (transparent) to frosted (opaque). 
FEATURES
+ Super thin, only 0.11mm.
+ Easy to cut and install.
+ Perfectly compatible with your car/yacht.
+ High temperature resistance.
BENEFITS
| | |
| --- | --- |
| Space Partition | It creates sleek dividers between the driver or pilot, promoting an open environment with a modern feel while allowing for instant privacy. The result is state-of-the-art comfort while traveling for both passengers and operators. |
| Privacy Protection | Privacy at the flip of a switch. Passengers may choose their level of privacy at any given moment. |
| UV Protection | It blocks up to 99% of the sun's UV rays protecting your skin. |
| Safety Protection | It reduces death or injury during an explosion by keeping shattered glass together. |
| Solar Control | It blocks 95% heat, offering thermal and solar insulation benefits, helping to keep car cool and comfortable. |
SPECIFICATIONS
Physical

Width

ON & OFF

≤1.2m

Length

ON & OFF

Cut to size

Thickness

ON & OFF

0.11mm

Colors

ON & OFF

White, grey, blue black

Installation Method

OFF

Wet apply

Lifespan

ON

>10 years

Optical

VLT

ON

>85%

OFF

>60%

Haze

ON

<5%

OFF

>96%

Viewing Angle

ON

>150°

UV Blocking

ON

>80%

OFF

>99%

IR Blocking

ON

>30%

OFF

>85%

Electrical

Working Voltage

ON

36VAC

Power Consumption

ON

<4W/m²

Control Mode

ON & OFF

Car ACC and window lifter button

Dimmer

ON

N/A

Response Time

ON—>OFF

<10ms

OFF—>ON

<10ms

Environmental

Working Temperature

ON

-35℃ to +75℃

Storage Temperature

OFF

-50℃ to +120℃
INSTALLATION TIPS
1. Car Window Size Measurement
1.1 Lifting Type Windows: Measure the maximum size for length and height. Add extra 10cm to the smaller size and extra 5cm to the bigger size, they are the precut smart film sizes.
1.2 Fixed Windows: Measure the maximum size for length and height, add extra 5cm of each and they are the precut smart film sizes.
1.3 Front and rear windshield are not applicable.
2. Control Mode: Car ACC and Car Window Lifter Button.
3. Important Notices
3.1 The installation is wet stick.
3.2 No water or aqueous liquids are allowed during the whole cleaning and installation process. The smart film can only contact with neutral substances. Acid and alkaline substances will corrode the smart film.
3.3 Special installation liquid is needed. The installation liquid formula and installation manual will be sent on the receipt of your specific inquiry.
APPLICATIONS
Noyark smart pdlc tint film can be used in the Car Window, Business Class Partitions, Cockpit Partitions and Driver Privacy Screens of Automobile/Train/Metro/Airplane/Marine/Yacht, etc.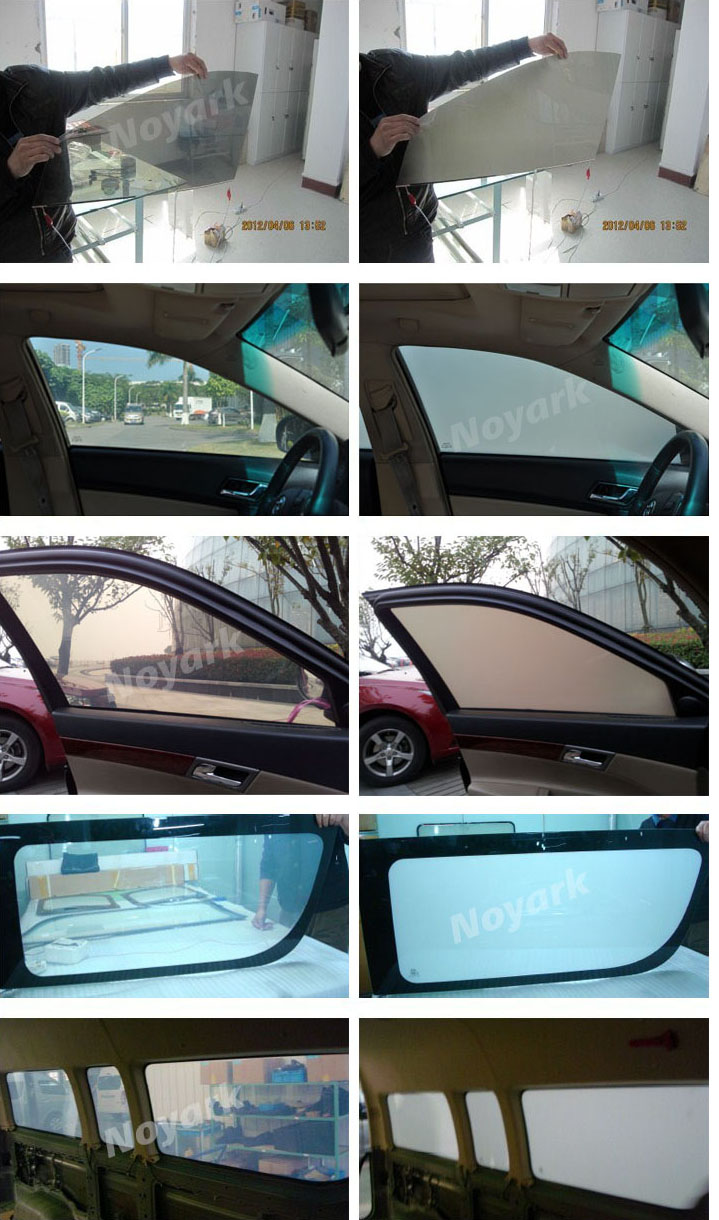 WHY CHOOSE US
1. Hi-Tech Manufacturing Equipment
Our core manufacturing equipment is imported directly from Germany.
2. Strong R&D Strength
We have 15 engineers in our R&D centre, all of them are doctors or professors from University of Science and Technology of China.
3. Strict Quality Control
3.1 Core Raw Material.
Our ITO film (no shrinkage, no color difference) and liquid crystal spacer (excellent uniformity) are imported directly from Japan; glue is imported directly from Europe; our liquid crystal temperature range is 70°C and protective film is resist to high temperature 80-90°C.
3.2 Finished Products Testing.
High & low temperature test at 75°C and -35°C for 500 hours; thermal shock test 10°C-90°C for 30 minutes; damp heat test for 500 hours; moisture removed by oven; smart films in sheet are powered by a 24-hour aging test; smart films in roll are tested with 100V high voltage to make sure zero breakdown.
4. OEM & ODM Acceptable
Customized sizes and shapes are available. We have automatic cutting machine, manual cutting machine and laser cutting machine.
FACTORY TOUR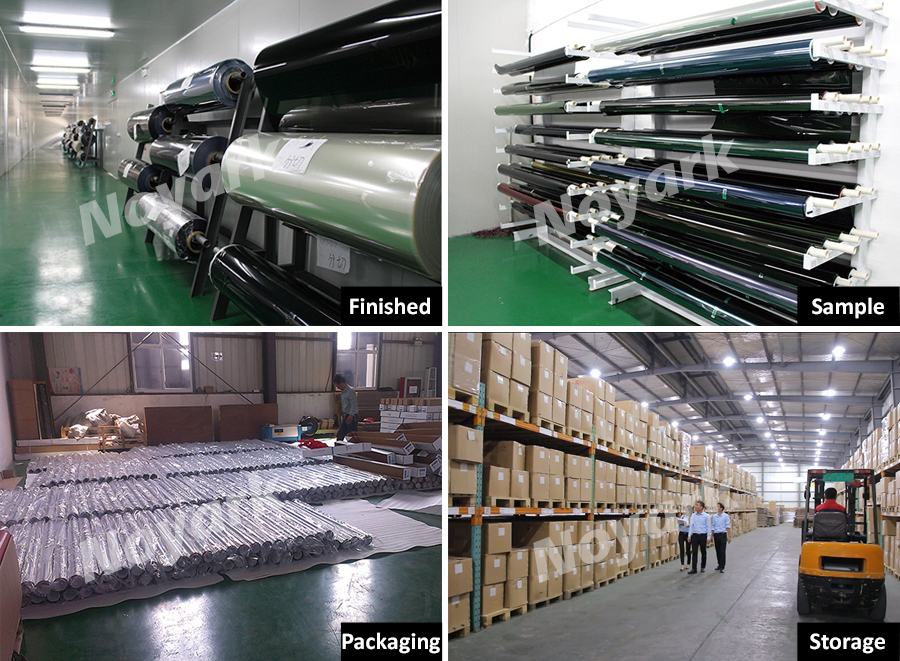 ---
Previous:
smart film for car window tint
---